A feature-rich modern Dokan compatible theme can make your multivendor marketplace business successful. So, if you plan to launch a new marketplace business website based on the dokan plugin, you can think about the themes we recommend in this article. From our real-life working experience and analyzing the features, we have handpicked the six best Dokan Compatible themes.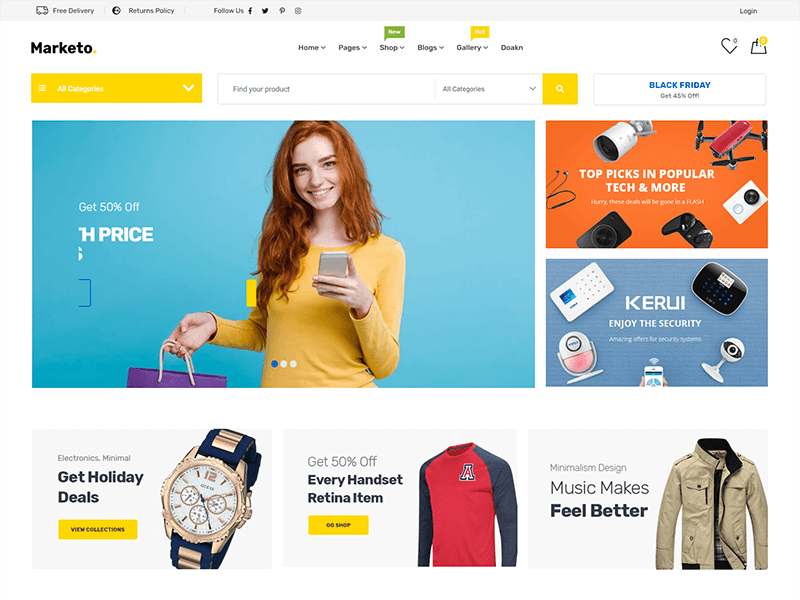 Marketo Theme is fully compatible with Dokan Multi-vendor marketplace plugin. You can make your own our own Amazon & eBay like marketplace website with this theme and dokan plugin in no time.
Marketo theme templates are designed focusing on multipurpose multivendor eCommerce websites. It provides you with more than 11 WooCommerce-based eCommerce templates. They are mainly focusing on 3 major niches: Electronics, Organic, and Fashion.
So, if you are interested to create a website in any of these categories, Marketo will be the go-to theme for you.
You will get ready-made design templates for Furniture, Grocery, Auto Parts, watches, Shoes, Eye Glass, Jewellery, Electronics, and Organic.
You can customize the demo templates with the Elementor drag and drop feature. Marketo theme offers 8 varieties of header designs to create a unique header section.
You can experience well-designed vertical and horizontal mega menus.
For better search experiences, an ajax search is included in the header area
Now, you can create and edit slider revolution banners easily, no need to purchase Slider Revolution separately.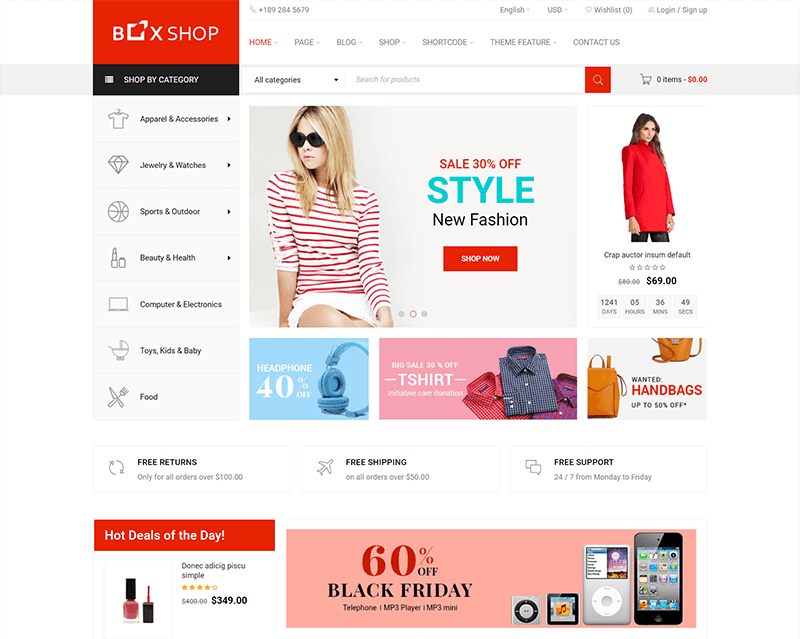 BoxShop is an amazing, well-designed Dokan Compatible theme. BoxShop theme presents 8 outstanding different homepages. For example:
Supermarket
Electronic
Houseware
Furniture
Glasses
Shoes
Organic
BoxShop integrates with WPBakery page builders. Its drag and drop interface saves you time to design new web pages.
There are 7 outstanding customizable header sections with built-in mega menus. BoxShop nicely presents a couple of layouts for the shop page,for example, Layout with the filter button & Layout with sidebar
You can consider this theme for having popular categorized demos.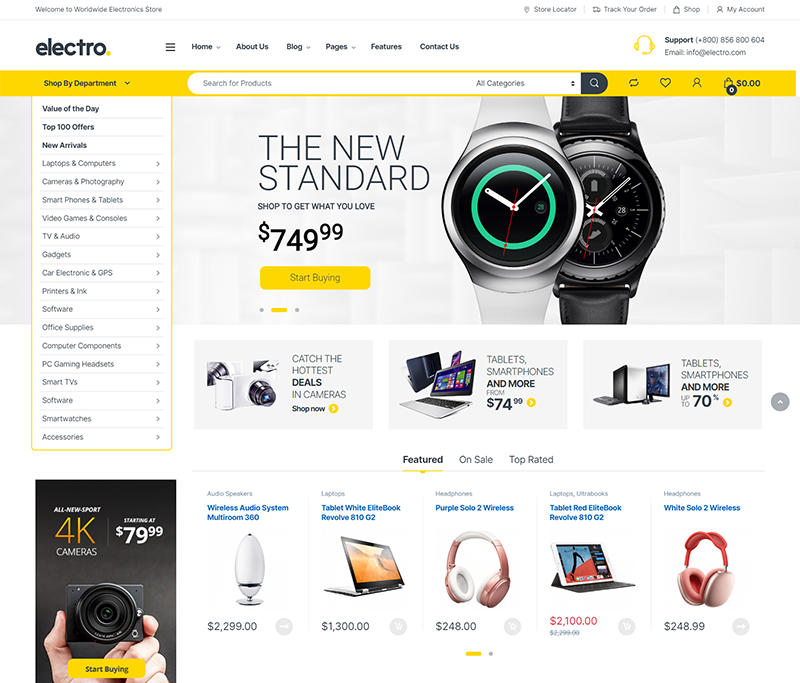 Electro is one of the most flexible WooCommerce themes.
This theme is the best choice for multi-vendor marketplace solutions because several multi-vendor plugins are supported including Dokan.
It provides more than 12 specially designed pages for the Multivendor Marketplace website. Electro also provides 12 home page demos.
You can customize all the demos with either Elementor or WP Bakery page builder.
For multivendor websites developed with the Dokan plugin, Electro theme comes with 5 templates for vendor list and 5 exclusive templates for vendor profile. You have Light and Dark modes on this product page to view the product effectively.
Several customizable header styles are included in the Electro theme.
Besides, It has 9 different pre-defined color palettes. You have a well-made horizontal megamenu. Not only horizontal but also you can get a nice vertical mega menu. Moreover, a well-structured off-canvas is included in this theme. Product comparison and order tracking features are mentionable.
If your business is mainly focused on selling Electronics goods, the Electro theme will be the best choice as it is a specialized theme for developing Electronics product eCommerce multi-vendor websites.
4. eLab
eLab helps you to create a beautiful and professional eCommerce website and multivendor marketplace. eLab theme provides 9 demo templates such as Grocery Store, Auto Party, Medical, Trendy Furniture, Yellow Electronics, Classic Electronics, Minimal Electronics, Strong Electronics, Creative Electronics, and Modern Electronics.
You can start your marketplace using any of the templates according to your business perspective. eLab theme has its page builder called X builder to design a complete website. Therefore, you won't have to depend on any third-party page builders like Elementor, WPBakery, etc. So, it can save you from extra expenses.
You get a couple of templates to design a shop page:
This is a full-width shop page
This page shows products in both grid and list view.
Product pages consist of varieties of layouts and styles to display the product in multiple angles and frames.eLab provides some awesome header designs to present your website to the next level.
eLab presents advanced live search. As the user inputs the search field, the search results appear instantly. It also presents an outstanding and customizable mega dropdown menu.Sidebar category menu items come followed by flat icons that make the menu items more user-friendly.
eLab has come up with a new feature for the Dokan plugin. In the Shop mega menu, the Dokan Dashboard option is found under WooCommerce. On this page, vendors can register and log in to their accounts. eLab theme provides you with a wonderful portfolio as well.
eLab is the perfect Dokan compatible theme. Therefore, you can make a complete multi-vendor electronics-based eCommerce website using the combination of Dokan and eLab.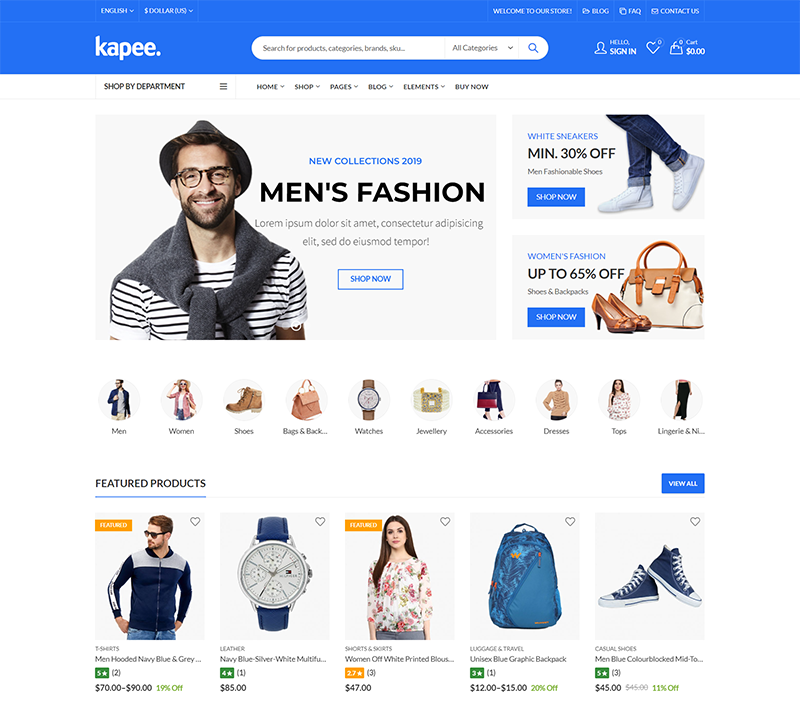 Kappe is a clean and minimal responsive WooCommerce theme for WordPress.The Kappe theme is suitable for any type of online store, including fashion, furniture, electronics, and accessories. Therefore, Kapee has made 14 Home Pages. Notable among them are Electronics Layout, Dokan Marketplace, WC Marketplace, WC Vendors Marketplace, WCFM – Frontend Manager, and RTL Layout.All these demos are customizable with WP Bakery page builder.
Vendor management is very important in any online multi-vendor marketplace. You will get special templates for Vendor Store and Vendor Element.
Kappe saves you money because you do not need to purchase any third-party software to display a product variations by its color & image. You can swatch color labels and images of the product using the Kapee theme.
Brought together analyzes data on which product a customer is more interested in buying. With this theme, you could display frequently bought together products in your WoooCommerce shop. It's an increase in sales by promoting cross-sell items.
The quick buy feature simplifies the checkout process. It redirects the customer to the checkout page instantly without going to the cart step.
To get features like a multistep checkout page, web developers need to purchase third-party plugins. In the case of the Kapee theme, you will get it as a built-in feature. So, it is a great save on your expenses, isn't it?
I must say, the UX and UI design of the single product page is fantastic. All sorts of details are available on this page about the product. In addition, the show-casing of the product is excellent. Products can be seen from different angles and colors, zoom in and zoom out.
You can also see the sale countdown and sale boosting.
You can create any kind of mega menu on the Kapee theme. You can customize the existing mega menu and create complicated layouts for the mega menu.
Finally, it is a go-to Dokan compatible theme for making a multi-vendor website.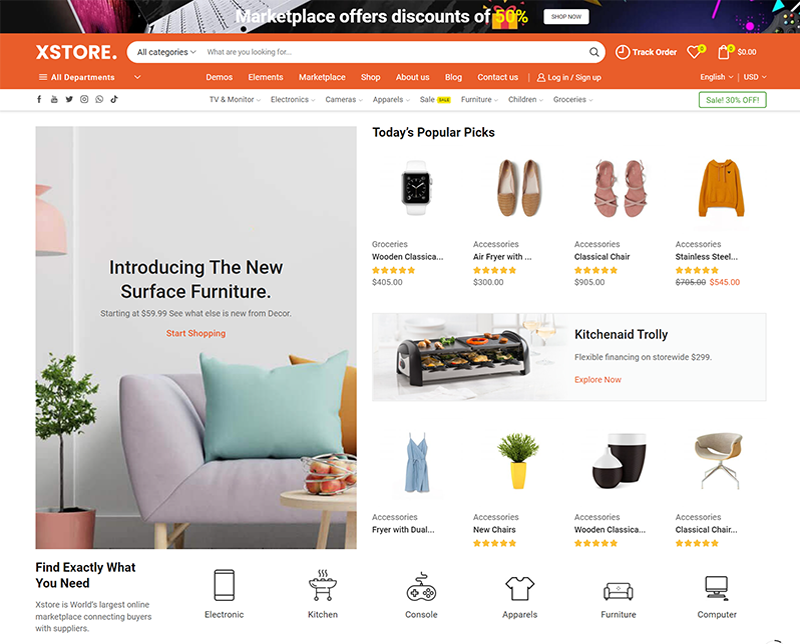 One of the most unique multivendor WooCommerce themes I would like to introduce to you is the XStore theme. XStore tries to cover all the features that you need to develop a WordPress multivendor marketplace eCommerce website.
XStore provides 100+ Awesome Pre-built websites for various business categories. You might find a great match for your business niche.
As you are going to develop a multi-vendor marketplace based on the Dokan plugin, you can use this multi-vendor pre-built website template which is specially designed for the Dokan plugin.
Xstore has a library of more than 350 ready-made sections. If you do not like any section of your selected template, you can look for that section in XStore studio and replace the old section with a new one.
It is a great way to make your design unique.
If you purchase this theme, no need to worry about webpage design because XStore is fully compatible with the most popular page builders like Elementor and WP Bakery.
To make the header section very beautiful and dynamic, you can use horizontal, and vertical side mega menus.
How searched information is displayed is important for any multivendor eCommerce website. Optimized and live search results make viewers interested in browsing an eCommerce site for a long time. XStore provides a very powerful search mechanism so that customers can easily find their desired product.
XStore provides the much-needed white label feature which is very important for company branding through the website.
The off-Canvas feature has been added to the XStore theme. If you have an off-canvas checkout page on your eCommerce website, the customer can add multiple products to the cart without leaving the page. They can see the cart details on the same page.
The XStore theme gives you the most tempting offers that can save you $510. By purchasing XStore, you will get these useful WordPress Premium plugins.
Therefore, the Dokan Plugin and Xstore theme are a great combination.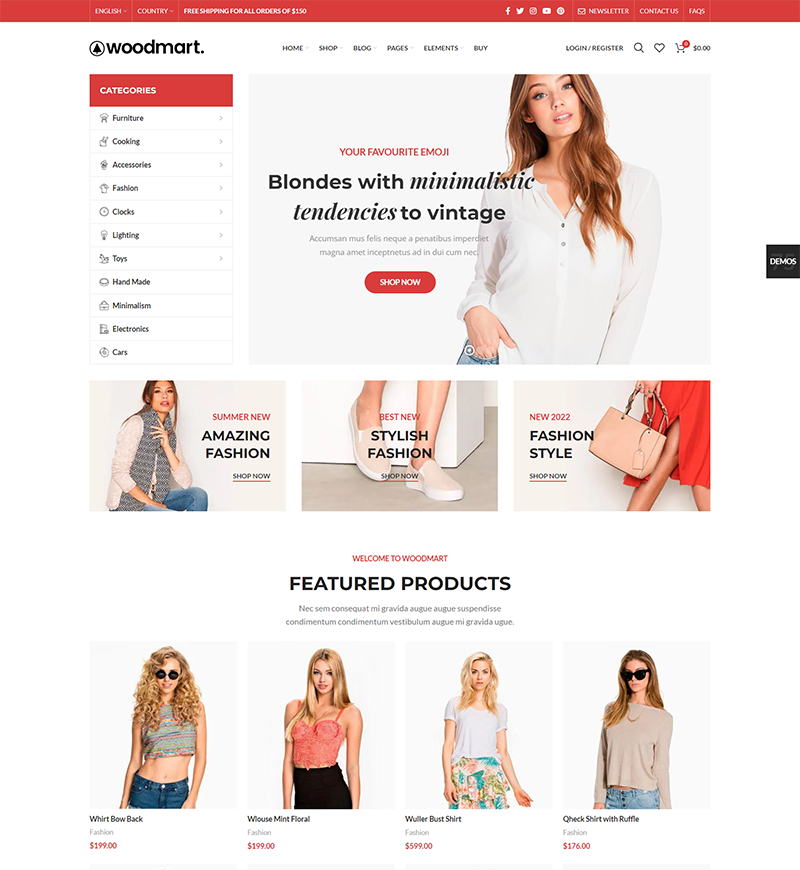 Woodmart is an attractive wooCommerce multipurpose theme with rich functionality and modern design, and great customer support.
Woodmart theme comes with 70+ demo layouts and all of them can be customized and re-designed using Elementor and wp bakery page builder.
The visitor counter feature will display the number of people watching the product in real time. Besides the visitor can see the previously visited products list. Woodmart theme template library is packed with 370+ premade template sections. You can use any of these premade sections to make your chosen template look unique.
To boost sales, You can display the frequently bought together products without installing any plugin.
Features
Product Variations
Multiple Wishlist
Drag & Drop Header Layout Builder
Ajax-powered Pagination and Filter
off Canvas hidden sidebar
built-in Mega Menu Builder
Ajax quick shop
Built-in Slider
Social login and registration in one click
White Label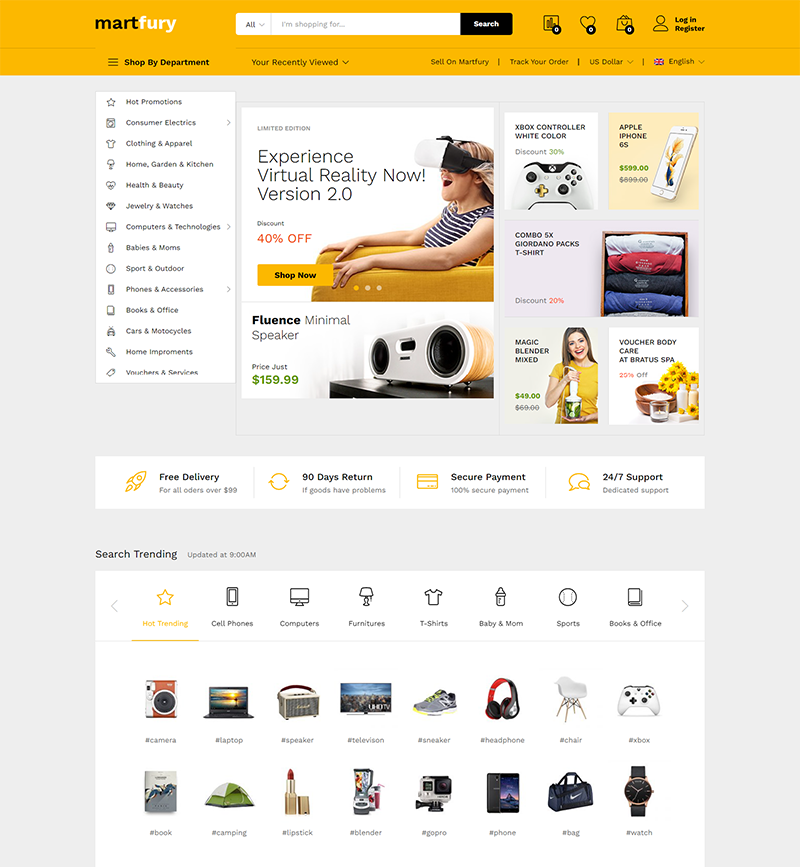 Martfury is a modern and customizable woocommerce multivendor marketplace theme and is fully compatible with dokan plugin support.With the built-in powerful eCommerce Functionality, you can build up a giant eCommerce marketplace like amazon & eBay. Martfury theme offers 6 pre-made Homepages and all of them can be customized with WPBakery Page Builder. You can present an attractive product slider with Revolution Slider Included with the martfury theme.
Powerful eCommerce Features –
Built-in Order Tracking System
Powerful Store Management
Built-in Coupon System
Product Deals
Advanced Live Search
Multi-Vendor Marketplace
Product Deals
Product 360 Degree
Frequently Bought Together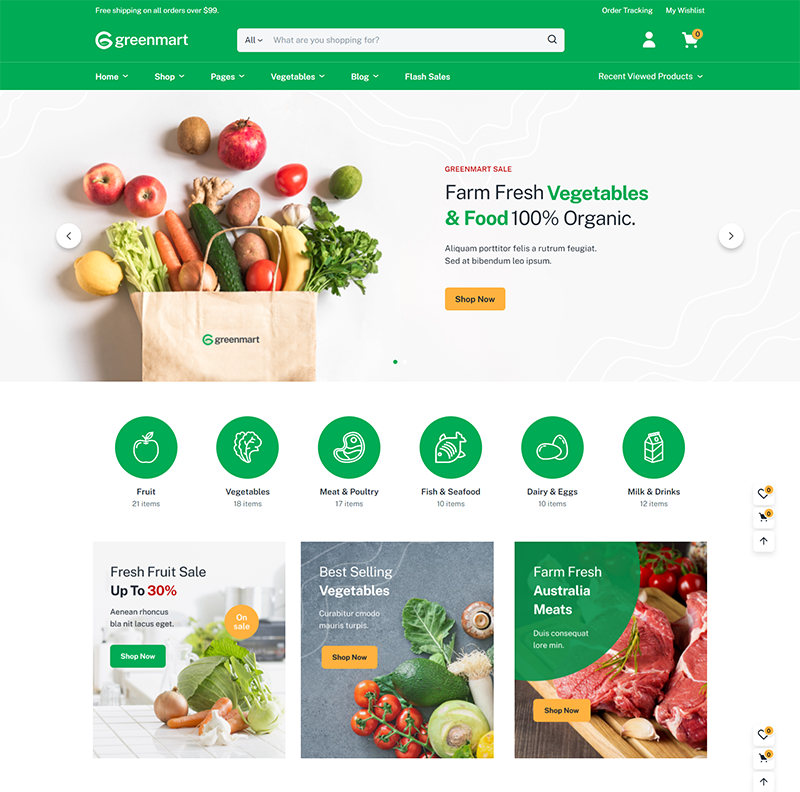 if you are planning to build a multivendor fresh food and grocery shop, GreenMart is the best dokan compatible theme solution. It has a dedicated home page template based on the Dokan multi-vendor plugin. so it's a good pick to turn your eCommerce website into a marketplace.
It has 5 plus home page templates and each part of the templates is customizable with the Elementor page builder
Ajax Mini cart
Ajax Live Search
Ajax Mini cart
built-in mega menu
smart quantity box
product variation swatches
Customer Image review
frequently bought together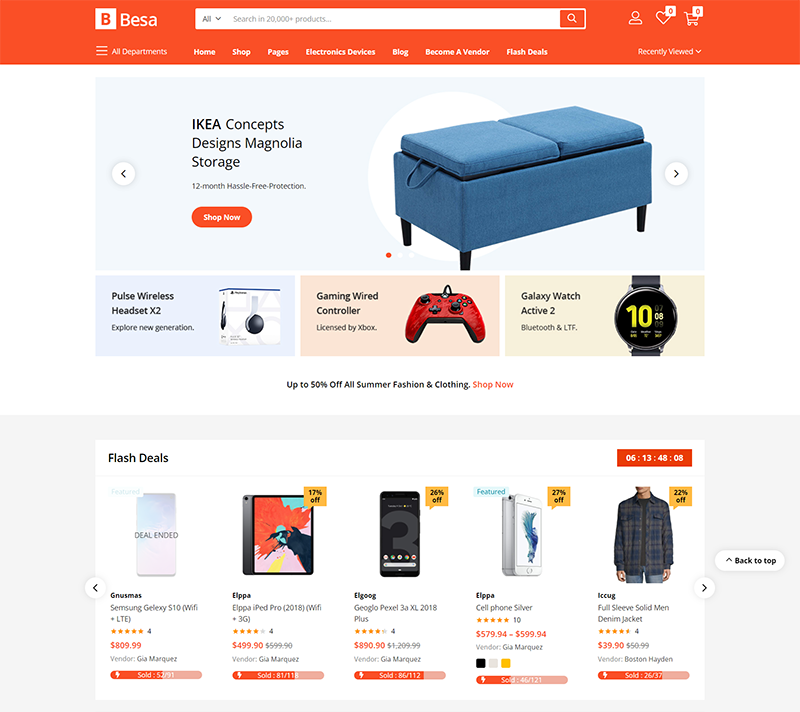 Besa is a powerful multi-vendor Woocommerce Auction theme. With this Dokan compatible theme, you can build an auction website. It is compatible with WooCommerce Simple Auctions & YITH Auctions for WooCommerce plugins.
Final Thoughts
We have deeply analyzed the features of each theme. We found all the above-mentioned themes have rich features for creating Dokan plugin based multi-vendor websites.
However, you may pick any of the above mentioned themes which meets your requirements