Are you searching for a WordPress theme to develop your personal or business website? When you are a novice in WordPress, we recommend you work with a theme called "Astra". Astra theme is a trendy multipurpose WordPress theme developed by an Indian team from Pune called "Brainstorm Force''.In this detailed Astra theme review Article, I will walk you through all the features Astra theme offers.
The meaning of the word "Astra'' is Weapon in Sanskrit as well as Star in Greek. It has been able to keep the value of its name since 2017.
Astra is a very versatile and stable theme. Day by day, it is becoming more popular with the WordPress developer's communities. Many developers are switching to the Astra theme from another theme. Astra theme is being used by over 1,200 websites every day, which is an incredible figure. Moreover, there are 600,000 active installations. Therefore, selecting the Astra theme may be a wise decision for you.
Astra theme is basically two types, Free and Pro. In this article, we will briefly discuss the free version of Astra Theme. So, let's start the short but detailed journey with the Free version of WordPress Astra Theme.
Astra Theme Key Features
The content on a website is one of the most important aspects in determining the theme. Let's put an example; a photographer needs a photography website. So, their website must contain numerous high-quality photos. Lots of videos and photos make a website heavy, and the loading time will be increased and that's why the number of website's visitors will be decreased gradually. Therefore, a photographer or a video editor should choose such a theme with good loading performance as well as lightweight.
The Astra theme is equipped with a good number of rich features. Among those, there are some features you would love to work on. Let's take a look at the key features.
Lightweight and high performance
Both free and pro versions are available
Multi-purpose and user-friendly
Design is responsive
SEO friendly. Support all popular SEO plugins
Having customization options
Favorable to social media(see How to add social media icon section)
Support WooCommerce
Pro and free versions of templates are available
A multipurpose open-source theme
Ease of Use
The Astra theme is really simple to set up and operate. Like other WordPress themes, you can easily install Astra theme from the dashboard of your WordPress website. Just follow some basic steps.
Firstly, Got to Dashboard → Home
Click on Add New button or Add New Theme
Search on the textbox on the Top right corner Astra.Astra theme will be automatically visible. Now, click on Install
Congratulations! You could install the Astra theme perfectly. Now, Activate the Astra theme and be ready to enjoy your website development life with the Astra theme!
Professional Starter Templates Astra Theme Offers
Actually, starter templates are some pre-built websites to fasten your web development project. You can easily import the demo website with a few clicks and you will get a complete website. Then you can just add your own content and manage them professionally.
Sense of design works well while looking at such templates. Astra theme provides 100+ fabulous templates to its valuable users. These starter templates are basically 2 types: free and premium.
You will get more than a hundred of stunning templates of the following categories
eCommerce
Fashion
Yoga
Blog
Business shops for instance restaurant, coffee shop.
Real estate
Pharmaceutical company
Online learning platform
Personal portfolio
Educational institutions
Consultancy firms like Lawyer
Ladies shops such as cosmetics store
Engineering firm namely architectural firm
And so on for many types of business purposes
Astra Theme Customization
A powerful customization option is necessary to build an optimized, user-friendly as well as professional website. You can create a standard quality website based on how much the theme can be customized. Therefore, before selecting a theme for developing your business or personal website keep in mind the issue of having rich customization options. Astra theme (free) has some basic customization options and it also supports many important customization options in the Pro version as well.
Typography:
In the Astra theme, Typography will be found in the Global section. After clicking on Typography, There are only two options, Base Typography, and Headings. In the Base Typography, there are several options as follows:
Body Font Family: There are several fonts you can choose to write by those.
Variants: Google forms will be used to load specified font variations only
Size: Using a slider, you can resize your font effortlessly. If you think you are in the wrong way, you can reset your size.
Line Height and Paragraph Margin Bottom: You can change your Line Height and Paragraph Margin Bottom easily with the slider by em measurement.
Underline Content Links: You can underline every content link so easily using this feature by simply a toggle button.
Weight has multiple options according to the Body Font Family but to the Text Transformation, there are four options: Default, None, Capitalize, Uppercase and Lowercase. The below picture illustrates the base typography and how it works.
Now come to the Headings feature. For accessing the Headings feature, go to Appearance > Customize > Global > Typography > Headings. There are several types of functionalities. There are 6 Headings since HTML has 6 header tags as well, HEADING 1 to HEADING 6. First, 3 Headings have 5 functionalities as follow:
Family: There are many types of font-family in this function.
Size: You can select your desired size for the font by using this in both PX and EM measurements.
Weight: In the drop-down menu, you will find 10 types of Weight.

Inherit
Thin 100
Extra-Light 200
Light 300
Normal 400
Medium 500
Semi-Bold 600
Bold 700
Extra-Bold 800
Ultra-Bold 900.

Text Transform: In this section, there are only 5 types of text transformation mentioning below.

Inherit
None
Capitalize
Uppercase
Lowercase

Line Height: EM measurement is available in Line Height. There is a reset functionality afterward.
HEADING 4, HEADING 5 and HEADING 6 have only 1 functionality and that is Size.
Colors: In the Global module, there is another option called Colors. When you go to the Colors, there are 6 kinds of functionalities as Text Color, Theme Color, Link Color, Link Hover Color, Heading Color ( H1 – H6 ) and Background.
Layouts: There are different types of layouts you can find in the theme. You may find some layout features in Container(Global->Container). Using the slider, you can put the size of Container Width in PX measurement. If you think your sliding measurement will ruin the design, you can reset it!
There are 5 kinds of layouts you may work with.
Layouts
Page Layout
Blog Post Layout
Archives Layout
WooCommerce Layout
WooCommerce container setting: For WooCommerce pages, you may adjust the container layout individually. Go to Appearance > Customize > Global > Container. The option you set here will affect WooCommerce Shop, Single Product, Cart, and Checkout Pages. The WooCommerce Layout setting will make an impact on your WooCommerce Shop, Single Product, Cart, and Checkout Pages.
Astra Theme Page Builder Support
Astra supports some well-known awesome page builders plugins. Astra theme has been initially developed to satisfy the needs of web designers and developers who would like to work with the most popular page builders plugins. Integration of the plugin is very easy. Some of the reliable plugins for Astra theme are mentioned below.
Gutenberg
Elementor
Braver Builder
Brizy
Header section
In the header section of the Astra theme(free), a few outstanding features you may experience. To work with the header section, it is called Header Builder in the Astra theme. Press your Customize button and see many options in the left corner of your website. Choose Header Builder.
In the Header Builder section, you will find out two other options, GENERAL and DESIGN. Clicking on the GENERAL tab, you can see many other options as Customize Transparent Header, Site Identity and Logo, Cart, Primary Menu. You can also make your header transparent with the Transparent Header option in the Header Types section.
Now, we have a look at the other option of Header Builder and that is the DESIGN feature. Full Width and Content Width are available here. You can also give the sizes of the margin. You can also view your site in both mobile and desktop versions. Isn't it amazing?
Change the logo:A logo is simply called a unique graphical identification of any website. So, working with the logo is very important to develop any business or ordinary website as well. Logo plays an important factor in any website on the World Wide Web(WWW). In the Astra theme, you can play with your logo in the Header Builder's GENERAL section. Just click on Site Identity and Logo. Appearance > Customize > Header Builder > General > Site Identity and Logo. Now, you will see the Logo section. Here, a developer or user can REMOVE or CHANGE thelogo easily. You do not need to be a great developer to work with this functionality. Just click on the options and get the result utterly.
Site Title and Tagline: We know, site title and site tagline play a vital role in SEO. You can hide/show your site title and title tagline just by using a toggle button. You can edit your site title as well as tagline unlimited times as you wish.
Site Icon: You can select your desired site icon, and remove or change it easily in the Select Site Icon option. Appearance > Customize > Header Builder > General > Site Identity and Logo > Select site icon. While selecting an image, you can write your SEO-based Alt Text, Caption, and Description as well. Please check the below pictures to visualize the whole functionality.
Astra Theme Footer Section
When you click on Customize, Astra activates its theme customization options where you can find Footer Builder, next to Sidebar. Let's have a look.
Like the Header Builder, Footer Builder consists of two options: GENERAL and DESIGN. In GENERAL, There are multiple options. For example, Copyright, Widget 1, Widget 3, WIdget 4, Social. You see Widget 2 is missing. Don't worry, you can add Widget 2 easily. The below picture will demonstrate the scenario.
In the DESIGN section, you will find both Padding and Margin options which make this section complete.
How to add social media icon in the Astra Theme Footer Builder?
In the Footer Builder, the GENERAL section has a great option named Social. After clicking on Social, a user can easily hide/remove/add Social Media Icon. Moreover, it has an extra feature like alignment. You can reposition your social icons using this feature comfortably.
Astra Theme eCommerce/WooCommerce Features
As a multipurpose theme, the Astra theme gave special priority to the WooCommerce plugin. It included all the features that anyone needs to build an online store. In the Woocommerce customization panel, you will find the options to manage Product Catalog page, Single Product page, Product Images, Cart and Checkout pages.
However, to unlock the more major features, you will have to upgrade to the Astra Pro version.
Let's go through each section in depth
N:b: To get the WooCommerce setting option in the customization panel, you need to install the WooCommerce plugin.
WooCommerce setting

Install and activate WooCommerce plugin
Under customization, WooCommerce dedicated tab will be shown
More settings are available under the WooCommerce tab, which is further subdivided into tabs.
Product Catalog: You may customize the appearance of your business page here.
Default product sorting: You can show your product ín 5 different categories of sorting.

Default sorting (custom ordering + name)
Popularity (sales)
Average rating
Sort by most recent
Sort by price (asc)
Sort by price (desc)

Shop Archive Content Width: You have the option of selecting the default or custom alternative. If you choose the custom option, you may choose the Archive Content Width.
Shop Columns: The number of columns to display products.
Products Per Page: You can manage the number of products to show on the shop page.
Shop Product Structure: Hide or show any element from the product component.
Single Product Page: Breadcrumbs can be enabled or disabled in this area.
Product Images: Main image width and Thumbnail width options are easily editable, as well as your product thumbnail images, can be cropped according to your desired ratio.
Cart: If you want to see cross-sell items, click the checkbox "Enable Cross-sells".
Checkout: On the checkout page, you will have options to hide some fields which may not be necessary for some business types. So, by hiding some fields, you can make your checkout fields very optimized and smart that will inspire your potential customers to purchase quickly.
Basically, you can hide or show the following 3 fields – Company name field, Address line 2 field, and Phone field
Moreover, you can hide or display privacy policy as well as terms and conditions content in the checkout area.
Astra Theme Sidebar
You can control the Sidebar of each page including WooCommerce Shop, Single page, Cart, and Checkout pages. For each page, you will get 3 sidebar options:.
No sidebar,
RIght sidebar,
Left sidebar
To setup the sidebar, go to Appearance > Customize > Sidebar.
You can also manage the width of the sidebar section.
Available Widgets in Astra Theme
However, a user can add WooCommerce Sidebar. To get this service, go to Appearance > Customize > Widgets > WooCommerce Sidebar > Add block.
Blog Options Astra theme Offers
Blog Options
Though Astra is a multipurpose theme, very few options are included in free version. But Astra theme will be very powerful when you purchase it. Pro version has many useful and important options which an ideal blogger wants.
To reach into the blog options, simply go to Appearance → Customize → Blog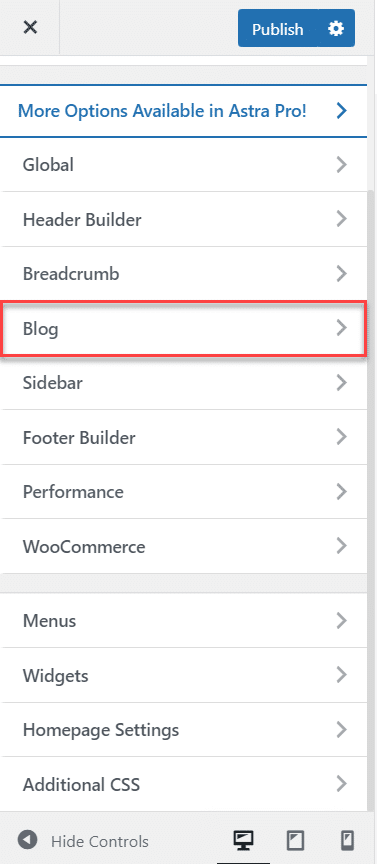 Under the Blog tab, you will find only Blog / Archive and Single Post named two options in the Free version of the theme.
Blog / Archive: Blog/Archive is divided into two parts: GENERAL and DESIGN. In GENERAL tab, there are two types of Content Width: Default and Custom. When you choose the Default option, Post Structure, Meta and Post Content are shown. In the Post Structure, you can hide/unhide your Featured Image as well as Title and Blog Meta.
Meta section consists of 5 options that you can hide or unhide easily. These are: Comments, Category, Author, Publish Date and Tag.
You can customize your Post Content into two categories: Full Content and ExcerptMeta section will be disappeared if you unhide Title and Blog Meta.
In the Custom tab of General, Custom Width is the special feature and the rest of the other features would be the same as Default has. See the screenshot illustration.
Now, come to the DESIGN tab (Appearance > Customize > Blog > Blog / Archive > DESIGN). Here you can customize Archive Title Font Size and Post Title Font Size by both PX and EM measurements.
Single Post: To access the Single Post tab, go to Appearance > Customizing > Blog > Single Post. As Blog / Archive, Single Post also has two tabs: GENERAL and DESIGN. Under the GENERAL tab, similar options of Blog / Archive are included as Content Width, Structure and Meta. Content Width is basically divided into two parts: Default and Custom. Firstly, we are now talking about the Default option.
Content Width is missing in the Default part but Structure and Meta are still remaining here. When you enable the toggle button of Enable Related Posts, some other features will be extracted. Here, you can put your single post's title and select title alignment. Furthermore, You can control the number of related posts you need to see. Grid column layout is also shown here. Also, the post-related query setting is included here effectively. Finally, you can count your excerpt words by enabling the Excerpt Word Count option.
Now, come to the Custom tab. Here, all sorts of functionalities are included here like Default except Custom Width. This means you can customize the width range of the single page in pixels measurement.
On the Single Post page, you can show the related blog post. Visitors will be interested to read more related articles. It will technically increase the page view of your website.
Now, let's talk about the DESIGN part. To access: Appearance > customizing > Blog > Single Post > DESIGN. Here, you can change the font size of the post/page title in both PX and EM measurements. Under the RELATED POSTS section, you may smoothly manage and edit the color of Section Title, Section Background and Content Colors. Moreover, you can choose and edit the font-related customization of Page Title Font, Post Title Font, Meta Font and Content Font.
Astra Theme Theme Performance
Initially, we tested the website's performance on GTmetrix websites. It says the Performance of the website is 97% and Structure rate is 96%, LCP is 975 ms and so on. You can check your website performance as well as speed on gtmetrix
After testing, we can conclude that the theme is lightweight and fast. But the hosting issue is also thinkable here.
Responsive Layouts
Using Astra theme you can make your website fully responsive. We test our website on responsivedesign
See the result
The website built in Astra theme looks perfect. On most of the devices, it appears responsively. Therefore, we must say Astra Theme provides responsive design.
Real Users Feedback – What Customers say about Astra theme.
Overall, the review of Astra theme is very satisfactory. More than 1 million websites use it. Until this writing, Astra theme got 4.9 stars out of 5 stars. 4,980 reviews were reviewed on WordPress.ORG website. Maximum users are satisfied using Astra Theme yet very few comments seem negative. Some users are getting disappointed with the free version that some useful features are available in the Pro version.
After visiting WordPress.ORG and noticing all the comments, users having issues got replied by the Astra theme developer team which is the most positive side of the system.
However, almost everything in this world has good and bad sides. Apart from the negativity, Astra would be the best pick for your website.
Support, Update and Community
It seems the Astra theme management team is very supportive. Day by day their community is increasing and Brainstorm Force(Astra theme developer) is becoming more responsible. Company CEO replied queries ever and anon which is really great! This indicates the whole team of Astra theme is amazing.
Whenever Astra theme developers bring an update, users will be notified automatically. Usually, the changes are made in 3 areas.
Astra Theme
Astra Pro Addon
Starter Templates
Additional Notable Features of Astra Theme
Since Astra theme offers you both Free and Pro versions, notable features are offered in the Pro version. Pro theme of Astra has more flexibility, functionalities and features than the Free version. Now, we list some of the additional notable features from the Pro version.
Customizable 404 page: You can create and customize a beautiful 404 page.
Integration of LifterLMS and LearnDash: These two plugins will enable a learning management system in your website. Therefore, If you are good at something, you can start teaching virtually using these plugins effectively.
White label: This is an amazing feature. If you want to name this theme according to brand, this feature will make this thing possible. You can promote your brand.
Astra Theme Pro version Features
Astra theme offers some exclusive features in the pro version. The Pro version makes a website more optimized, well-structured, and professional. There are some special features including
Blog layouts – You can create a highly professional blog website as it offers List, Grid, and Masonry blog layouts.
Multiple Header design with megamenu system to build eye-catching header section
Highly customizable Footer layouts
Background and Colours modification in any area of the website
Improved typography from the free version
Various site layouts are included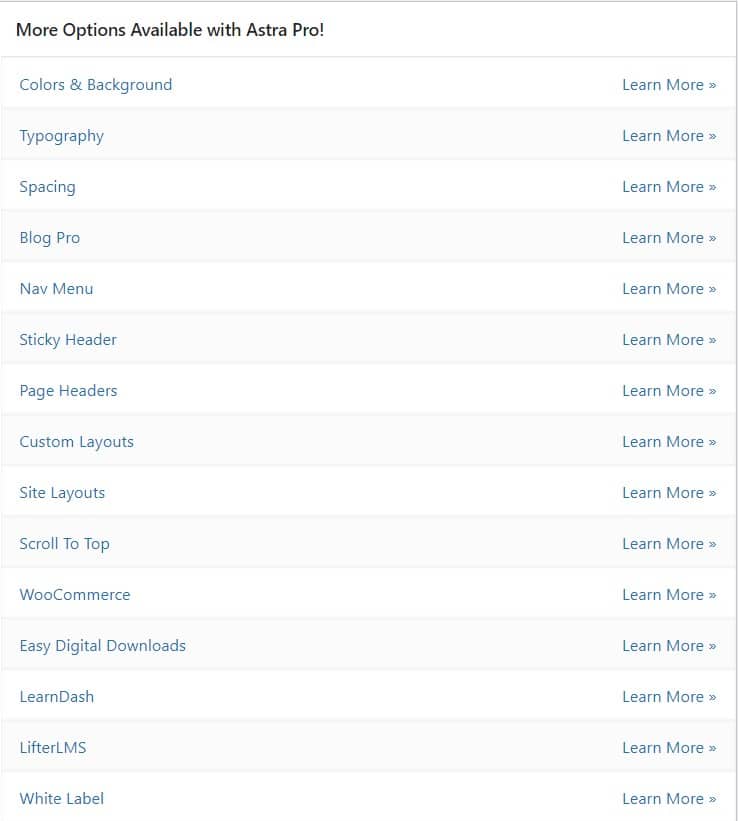 Reasons to Upgrade To Astra Pro
When you use Astra theme free version, you do not get live support from the developer end yet you might need to. Astra theme pro version offers you 24/7 exclusive customer support.
When you use the free version, you may notice that you can not style page backgrounds effectively which is a very important feature. Again the pro version offers you page background styling.
Site layouts are almost absent in the free version yet the pro version offers once again.
For better typography as well as spacing, the pro version is best for the business.
Many WooCommerce and blog features are included in the pro version. So, when you are dealing with blog and e-commerce you should consider the pro version.
Various useful shortcodes are integrated in pro.
And so on.
Now, you can understand why you should upgrade to Pro.
Pricing – Overpriced or reasonable ?
In comparison with other similar kinds of themes, it seems a little high in price. The best deal with Astra theme Pro is lifetime GROWTH BUNDLE, the price is $699! Good things cost more.
In our opinion, the price may be reasonable for those who desperately need this theme for business purposes. There are 2 types of pricing: Annual and Lifetime. After deep analysis, when you go on lifetime it will be more effective than annual since the features remain the same.
Astra Pro saves your website design time. Therefore, Professional bloggers and eCommerce business companies can grab the opportunity to enter into the various features' world of Astra theme pro.
Final Thoughts
Nowadays, Astra is becoming one of the most choosable themes. Astra theme's clients are convinced and satisfied by the quality of the theme and customer services. That's why they recommend the Astra theme and that's how it is growing with huge popularity. Its Pro version is more effective and impactful than the Free version. For instance, Astra theme is not suitable for bloggers yet if you pay charges, Astra theme will provide you the best service of blogging. So, if you need extra advantages and more facilities from the Free version, convert to the Pro version. However, The main intention of the article is to give the overall ideas about WordPress Astra theme of the Free version to our valuable readers.
Apart from this article, the official website of Astra Theme is the treasure of knowledge. If we miss any technical talks, you may keep eyes on the Astra theme official website.
Finally, we want to end the discussion with a piece of great information. WPForms, a popular WordPress form builder, sponsored Astra. Therefore, you do not need to install the WPForms plugin differently. Due to having a partnership with Astra, WPForms will install automatically after installing Astra theme. So, choosing Astra theme for your website development in WordPress will be a fantastic choice.